problem
The overarching problem for diners and servers is that the current feedback system at restaurants is not actionable. Diners don't feel like their voices matter, and reviews given through apps like Yelp are cluttered by angry customer rants and a myriad of other complaints that may not be relevant.
How might we close the feedback loop? How might we:
Empower diners and restaurant staff to communicate in a mutually beneficial way?
Provide a convenient, intuitive, and tailored experience for diners to submit feedback (both positive and negative)?
Help servers improve their skills, careers, and potential future employment through a data platform that demonstrates their prior performance?
I created an online survey and collected feedback from more than 60 diners and servers in order to better understand the current trends and problems with online restaurant reviews.
I wanted to observe how diners and servers interact and address conflict, so I utilized the "fly on the wall" research method and made dinner reservations at UMA casa on Valentine's Day since it is one of the busiest days in the restaurant industry.
It was important for me to understand both customers and servers, so I did contextual research at Tres SF and followed a server during his shift. This allowed me to experience how a restaurant operates first hand and the challenges that affect a customer's experience.
Key Learnings:
Almost 60% of the diners surveyed would like a way to provide positive comments and constructive feedback for the wait staff to improve their service skills.
85% of the wait staff surveyed are interested in improving their service skills based on diners feedback and comments.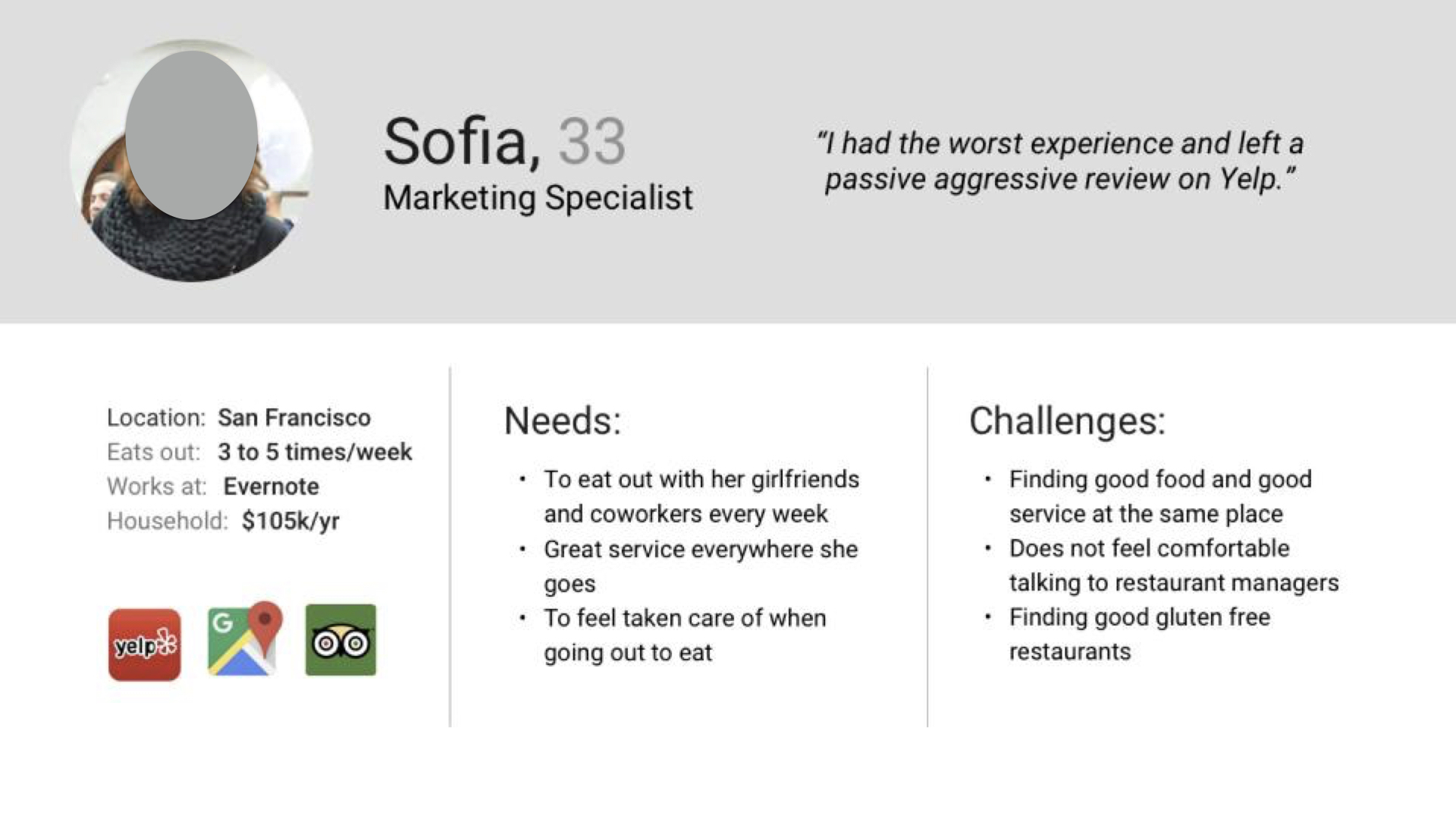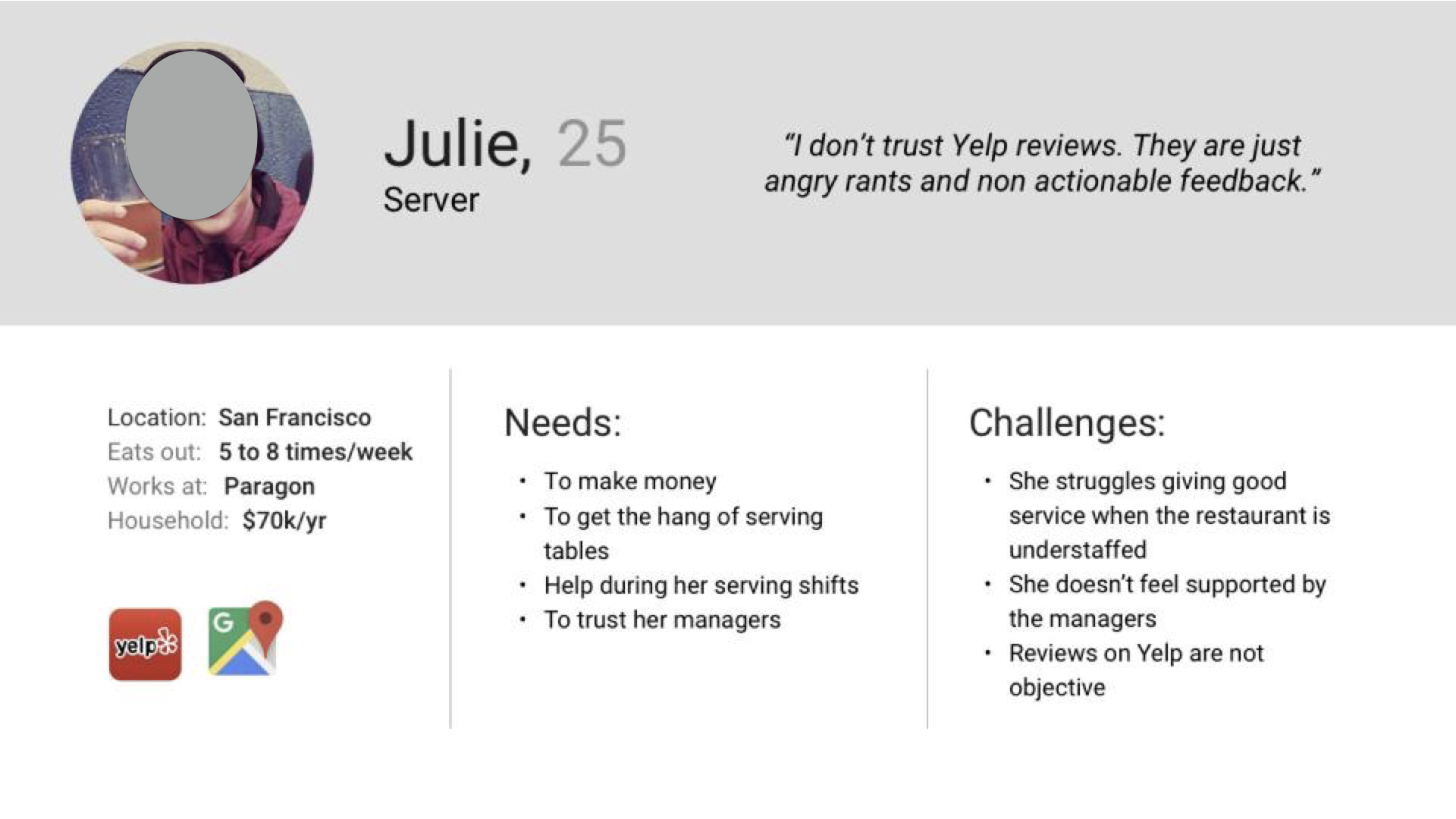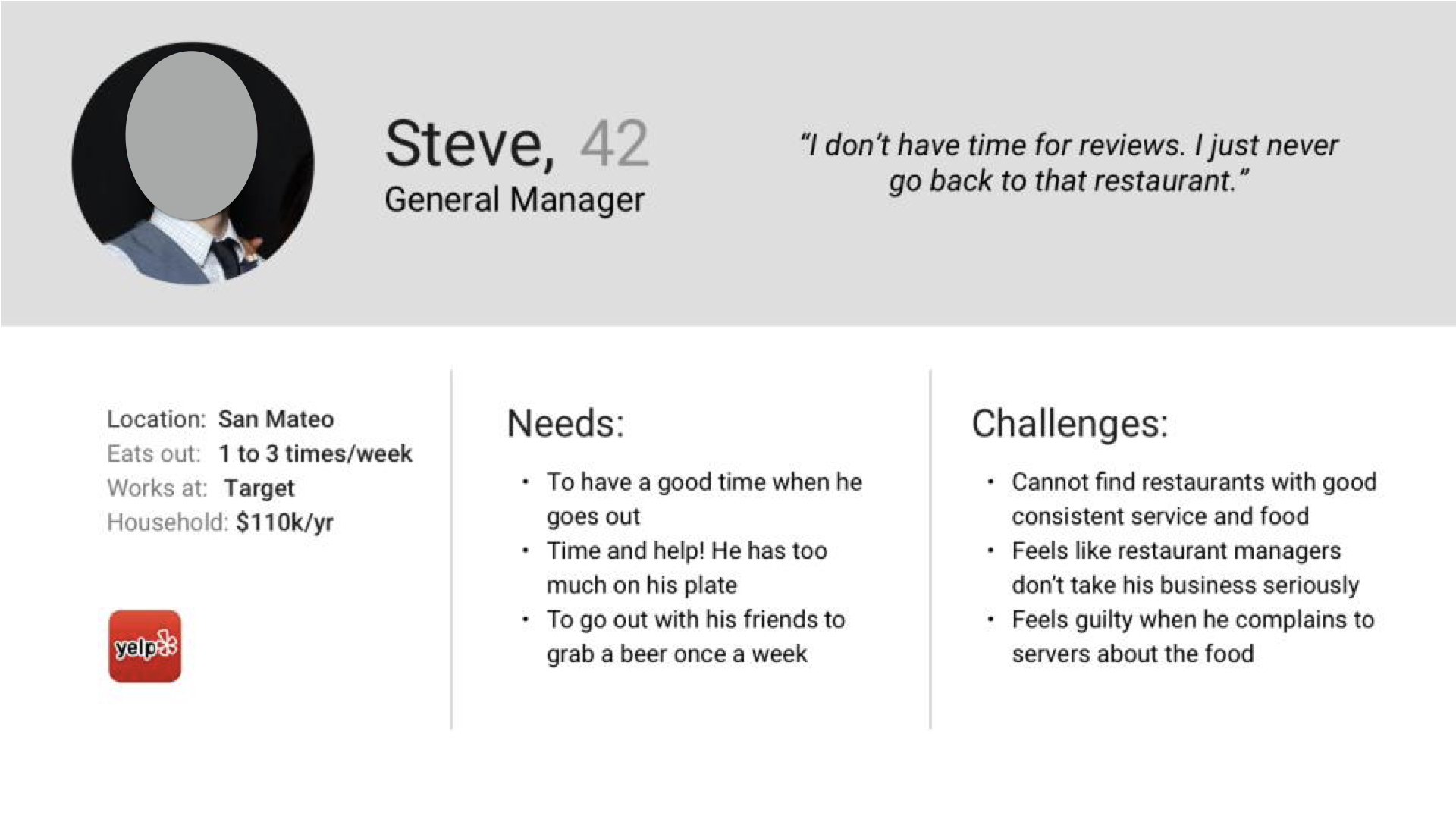 Wait staff's current journey
main user needs:
DINERS
Diners do not always tell the wait staff why they had a bad experience.
Diners want to make sure their comments and feedback get to the wait staff.
Diners would like an incentive to write comments and feedback.
WAIT STAFF
Current sources of feedback are not actionable.
Few customers communicate their frustrations.
Lack of empathy between wait staff and diners.
education + technology = understanding
The key is to empower diners while aligning their feedback with the steps of service that are behind a great dining experience. We accomplish this through two main actions: education and a tailored feedback framework.
next steps
Next steps are...